Join NAMC
NAMC's membership is made up of leading health and social services,  arts, environmental and other nonprofit organizations in Monterey County. By working together we can build a stronger community.
Membership in NAMC is open to all organizations serving our area. Your group's membership includes: Members Benefits
Membership fees for 2016 (Based on services provided in Monterey County):
$ 40 if operating budget is under $200,000
$ 60 if operating budget from $200,000 – $500,000
$100 if operating budget from $500,000 – $1 million
$150 if operating budget is $1 million or over
$175 Government/Public Agencies
$350 Sustaining Membership, for foundations and other funding entities.
  to receive NAMC newsletters and announcements.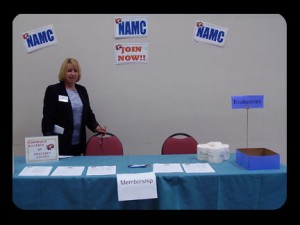 Membership table at NAMC conference.